For pursuing the quality of our clients' satisfaction with craftsmanship
From the day of establishment, over 60 some years, we have pursued the quality of clients' satisfaction. Time has passed and although we have achieved so much technology innovation and advancement, there still are some processes that machines Can't achieve the same quality as handmade. Our products are handmade with great care and quality.
All our products are essentially non-fluorescent and no formalin processed. It appears in their natural ivory colors.

With delicate care and craftsmanship, we strive for exclusive quality products to satisfy our valued clients.
Our daily exploring to develop better quality has led to the total number of over 2 million samples. Expertise since our establishment will turn your idea into exceptional products.
From natural fiber, such as cotton, linen, silk to polyester, nylon, acryl we weave different materials according to your specific request for texture, feel, practicality and look.


Items above are just parts of our products examples. We have more items as extensions of requests from our clients.
From selecting threads and materials to how to weave and process, we support our clients in the course of achieving your ideal products. We value craftsmanship and incorporate our clients' voice into the products.
Our craftsmen, with long standing experience and dedications through trial- and- error, will support to create your ideal products. Even for clients who have only vague idea or perhaps who wish to pursue technically one step further, we discuss details of your idea together and turn it into real products.


Our thorough value on 'high quality' 'small lot quantity requirement' 'swift delivery'
Since the day of establishment, we have valued 'high quality' 'small lot quantity requirement' 'swift delivery' and particularly on regard to quality, we maintain quality control through hands-on and visual inspections. In order to maintain efficient production line to meet clients' needs, we have dedicated ourselves to innovation of facilities and training of young craft-persons.
The founder

Seiichi Harada

established

'Harada Shoten'

, exporting dish cloths and place mats to the US and Europe.
The business was handed over to

Sohei Harada

.
Became a corporation organization as

Harada Orimono Co.,Ltd

Established processing facility and factory within the venue.
Established warehouse in Hashimoto city, Wakayama pref.
Launched marketing line, original-brand

'Weaving Factory''Knit-kobo.h'

.
Purchased Katsuragi warehouse in Ito county, Wakayama pref.
Established

2nd factory

in Hashimoto-city, Wakayama pref.
Established

weaving machinery and printing factory

in Hashimoto- city, Wakayama pref.
Established

3rd and 4th factory

in Hashimoto-city, Wakayama pref.
Integrated processing from designing to touch- up, thus we realize one-stop processing with consistent and meticulous care.
We, Harada Textile Fabrics Co.,Ltd, process from thread production to inspection of finished products in one factory, which enables us to meet clients' specific requests and produce in small quantity with varieties.

Count the threads and place it to beam, ready for weaving in the machinery.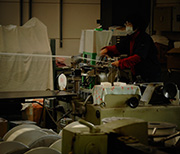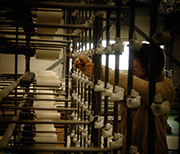 Meticulously set threads according to the instruction for the production.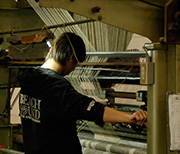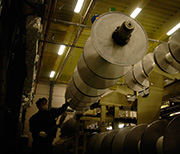 Other than two types of textile printing machines, we have exquisite 'hand-printing' technique available.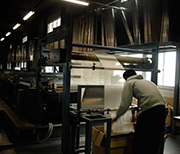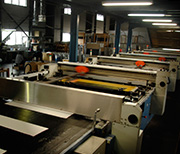 Apply various touch-up to the surface of original fabric, such as anti-bacteria (SEK certified), UV cut and Hyaluronic acid processed.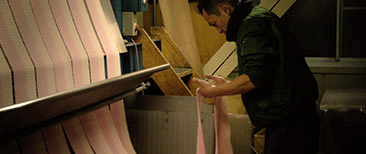 Cut the original fabric into required sizes with the most suitable cutting tools, such as automatic- cutting machine, hand-cutter, and scissors.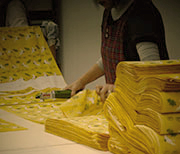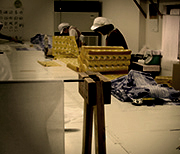 Cut the fabric into the final size.
Again here, we use the most suitable machine for the product, such as over-lock sawing machine, final sewing machine, and automatic sewing machine to meet our clients' requests.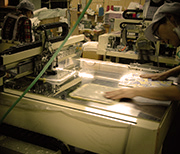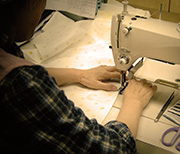 We inspect every single item by eye for end customers' comfort. Also if you prefer, we are flexible to use your supplied materials for packaging process.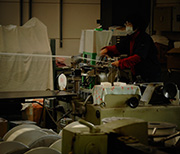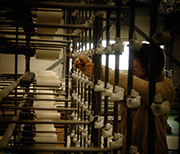 We strive for maintaining 'Made in Japan' quality by one-stop processing at our owned factory.
「We don't compromise on quality and functionality and, in order to offer cost-effective products, maintain efficient facilities and system. We are proudly assure you with the quality of our products by experienced experts, which are something beyond machine-made.